Most Friday Nights are pizza nights here.
Jacques makes delicious pizzas.Thin crust.thick crust.. some toppings..more toppings..less toppings.
I like them all.
Last night was no exception.But it was after a nice day going to a couple of new spots and doing errands.
Most of you know I am such a devoted fan of ..
Every time I get his magazine..I peruse the recipes..look at what he recommends..etc..often the sources for his findings are listed.
One thing I had looked for many a year:), are the wild hibiscus flowers ..His source was named in the magazine..as well as sources for other things.
Jacques brought me here and there and yonder..(far for me:) )..
In one of the stores imagine my delight in being there at the exact moment his(Ricardo's)..or one of his stylist/photographers..was there.
The store owners and the gentleman could not have been nicer..friendlier..more helpful.
It's a treat to meet people you admire and see that their talents shine though in friendliness.
True artists share..ideas.. tips ..kindness.
He was a reflection of what I see in the magazine.
I was not disappointed:)
I picked up a small gift for a special couple:)
And thought I would share this fun way of wrapping.. w/ a magazine..pages of..a magazine..
Everyone has a magazine at home:)
So The pizza was delish..as always..the day.. a bit more fun than usual:)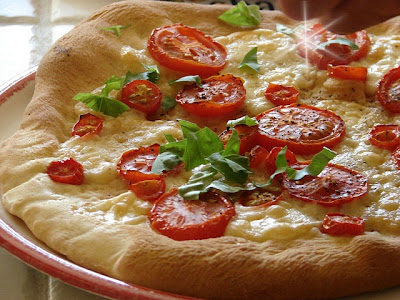 It was thin crust last night and mine had fresh tomatoes.
Jacque's Dough Recipe~
50 mL white wine
115 mL water
0.5 tsp salt
1.0 tsp sugar
1.0 tbsp olive oil
1.0 tbsp cornmeal
1/2 cup pastry flour
1 cup farine
1tsp baking powder
.15 tsp garlic powder
.15 tsp onion powder
1 tsp active dry bread yeast
Pre-heat oven @ 170F, then shut it off and let formed pizza on parchment paper rise in oven for 20 minutes.
Preheat baking stone for 30 minutes @ 425 F.
Bake pizza for 15 minutes, then remove.