I enjoy tea..I probably prefer coffee..but I like the prettiness of tea..All kinds..Little sachets..blooming teas..infused teas..and this tea..Tea Forté~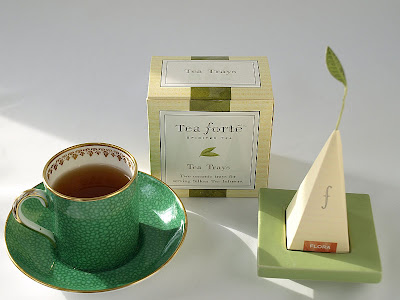 I think what got to me first was the leaf at the end of the tea bag:)
Each little pyramid shaped bag has a leaf at it's very tip..it's bottom sits in your cup infusing it with special blends..
All kinds of accessories can be added..the little trays..
the beautiful white individual teacup with lid..I see they have red now too.. little clear cups..gift packs..
I think they make great gifts..and I like looking at them too~
I keep mine out on a corner shelf in the kitchen~
If you need a special gift.. I suggest a few sachets and the big white cup w/ lid:) Or a couple of trays with a few sachets..they also have gift sets..
Tea Forté